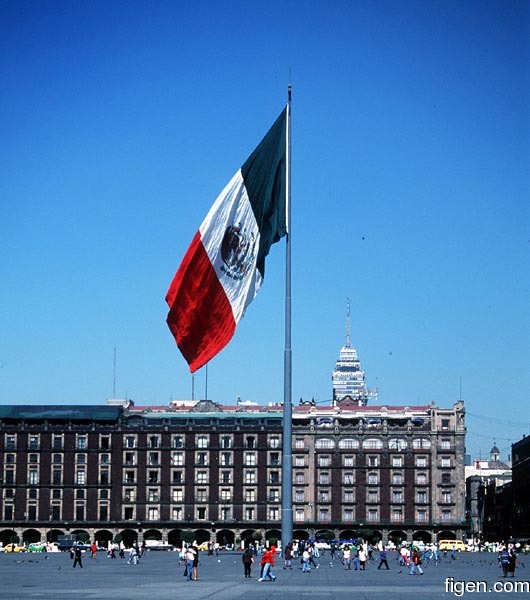 Being in Mexico City has been a rather moving experience. On the one side I see all the beautiful archtitecture and the splendor of a great city, on the other, I see in the subway so many desperately poor people that it just breaks my heart. I know that we talk a lot about the poor and about social justice and prayer and....but actually seeing them, face to face...It is quite an experience.
Yesterday we went to the Zocalo and on the way there, in the subway, an old man was sniffing something, he was clearly drugged, but there was such a look in his eyes. He was standing next to me until another man got up from his seat and gave it to me, and a group of other men, stood right in front of us, to protect us. There were no words said but the experience of those eyes will not leave me because they made an imprint in my soul.
I was asking myself, what is all this business about professing the Incarnation if I can not live it, if I can not see it in my broken brother, in the poverty of that man who could be my father? I kept asking me, what is in that heart? And I felt so powerless.
Later, we got to the Zocalo and then again, there were millions of people there. I am not kidding by saying millions. People were pressing everywhere and the four religious who went there had to hold each other`s hands and walk one behind the other, otherwise I would never see them again in that sea of people...There was a man who could not walk and was lying on his stomach in a little cart, I can not remember what they were called, but I had one as a child. He added a little motor to move about. Both his feet were gangrened. And again, I felt such a pain in my heart that it turned into actually physical pain. Have you ever hurt so much in your heart that the pain turns physical? That`s what I felt.
And then? What to do with that? How do I, as a religious of the Incarnate Word take that pain and make it life-giving? I`m still praying. But I wanted to write it so that the experience will never be forgotten. May God help us all and may the Incarnate Word help me to find Him in everywhere.